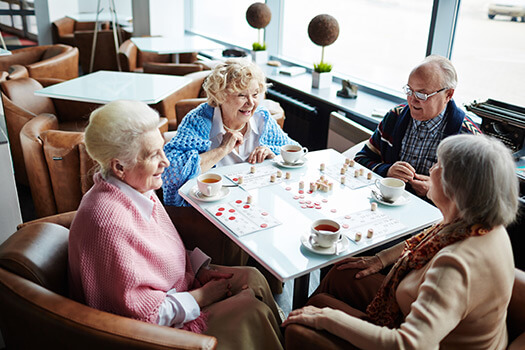 People of different age groups often enjoy playing bingo. However, the game is especially popular among older adults. Whether played at home with loved ones or in a community setting, bingo can offer seniors a variety of benefits. 

1. Enhances Coordination

When seniors do not engage in activities that require the use of their hands, they may lose some hand-eye coordination. Bingo is a fast-paced game that requires the players to mark a number they have on the cards as quickly as possible. Playing bingo regularly helps seniors enhance their hand-eye coordination, prevent mobility-related issues, and enjoy a high quality of life.
Maintaining a high quality of life can be challenging for some seniors, but professional caregivers can help them obtain this goal. Families can trust in home care Lakewood experts to help their elderly loved ones focus on lifestyle choices that increase the chances of living a longer and healthier life.  

2. Boosts Cognitive Health

Listening to the caller, watching the cards, and marking the numbers require the brain to perform several functions. Just as regular exercise keeps the body healthy, playing bingo and other games creates new neural pathways and boosts brain function. Seniors who play bingo tend to demonstrate better cognitive function compared to those who do not play the game. 

3. Maintains Physical Health

Older adults with sedentary lifestyles can get some physical activity by walking or driving to their nearest gaming facility. During game play, participants also engage in conversation and laughter, which causes the muscles to relax and helps minimize physical discomfort. The heart rate also increases, which enhances blood circulation. 

4. Encourages Socialization

Going out and enjoying the company of others is part of the socialization process. Older adults who live alone can meet their friends or make new acquaintances when playing bingo. Socialization prevents the possibility of feeling isolated and helps seniors stave off depression.
For families living in Jefferson County, CO, respite care can be a wonderful solution when their aging loved ones need companionship and socialization a few hours a week or just need minor assistance with daily household tasks. At Home Care Assistance, we thrive on helping seniors maintain their independence while living in the comfort of home.

5. Provides a Psychological Boost

Once older adults retire, they may have plenty of time on their hands. If they do not engage in hobbies and activities, they may become bored and susceptible to several emotional and psychological problems. Playing bingo on a regular basis gives seniors something to look forward to and the chance to connect with other people. Conversations at a typical game of bingo can range from comparing medical conditions to discussing families or current events. The opportunity creates a greater sense of wellbeing. 

6. Accelerates Recovery

If a senior is recovering from an illness or injury, playing bingo can offer several emotional, physical, and psychological benefits, boost the immune system, and speed the healing process. 
If your elderly loved one is living with a serious medical condition and needs help managing the tasks of daily living, reach out to Home Care Assistance, a Jefferson County home care agency you can trust. Our caregivers are available 24/7, there are no hidden fees in our contracts, and we offer a 100% satisfaction guarantee on all of our in-home care services. To learn about our high-quality senior care plans or to hire a dedicated caregiver for your senior loved one, get in touch with us at (303) 987-5992 today.