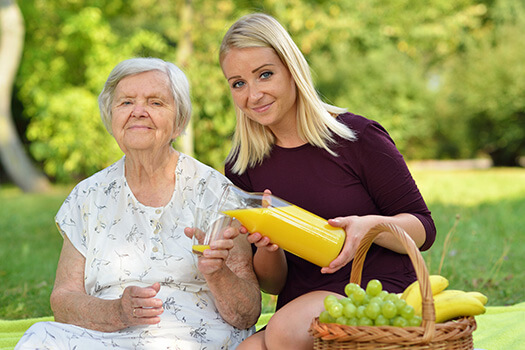 Having a working mobile phone is a must when leaving home with your loved one, but some additional supplies can make spending time outdoors safer and more comfortable. Here is a list of six items that can help you prepare for a variety of situations when taking your loved one on a picnic.

1. First-Aid Supplies

While you usually don't need a full first-aid kit for a short outing, make sure to have some basic supplies on hand. Pack a small first-aid kit that contains hand sanitizer, bandages, and antibacterial ointment to treat injuries immediately, and clean the injury promptly when arriving home. You should also consider carrying a fully stocked first-aid kit in your vehicle at all times to prepare for emergencies.
Seniors who want to remain healthy as they age can benefit in a variety of ways when they receive professional non-medical in-home care. Jefferson County, Colorado, Home Care Assistance is here to help your loved one accomplish daily tasks, prevent illness, and focus on living a healthier and more fulfilling life.

2. Medications

Keep at least a day's worth of your loved one's medications with you when leaving home. A medicine organizer with compartments is ideal for outings. These organizers are far less bulky than prescription bottles and allow you to take up to seven days of your loved one's medications with you everywhere you go. If your loved one has allergies, don't forget to take antihistamines or prescription allergy medications along on all outings.

3. Bottled Water

Make sure to carry some extra water with you when you're going on a picnic. Before leaving home, fill reusable water bottles for each person attending the picnic, and pack extra bottled water to prepare for emergencies like flat tires or traffic delays. 

4. Meals and Extra Snacks

Healthy, lighter foods are  ideal for picnics in the summer. Fruits, salads, and grilled tofu or grilled chicken breasts are some meals you can add to your picnic basket. Extra snacks are also useful, especially if your loved one has a reduced appetite at mealtimes. Choose high-protein snacks like almonds to bring along to the picnic, and pack granola bars and other nonperishable items in the vehicle to prepare for delays and emergencies. 
Hiring a reliable and professional caregiver allows you to take a break from your caregiving duties to plan for outdoor events. When searching for reliable Jefferson County in-home care agencies, families want to know their senior loved one will be well taken care of. At Home Care Assistance, our expertly trained caregivers are available around the clock to assist with tasks around the house, provide transportation to medical appointments and social events, and much more.

5. Extra Clothing

Extra clothing is a good addition to your vehicle emergency kit, and can also keep your loved one comfortable when spending time outdoors. Choose light colors, and opt for lightweight material to prevent overheating in warm weather. Long sleeves are a must when you want to prevent insect bites, but choose ultra-lightweight materials like thin linen to keep your loved one cool. 

6. Insect Repellent

A DEET-based insect repellent can prevent most insect bites without the need to wear long sleeves. Natural insect repellents that contain lemon eucalyptus are just as effective as other insect repellents, but they don't contain the potentially dangerous ingredients found in most DEET-based products. Order these natural products online to prepare for insect-free picnics and outings with your loved one.
Caring for a senior loved one can be rewarding, but it can also be overwhelming for family caregivers who have other responsibilities they need to focus on. For these families, the perfect solution is respite care. Jefferson County families rely on our caregivers whenever they need time to rest, work, run errands, and even go on vacation. If you need a professionally-trained caregiver for your elderly loved one, contact Home Care Assistance at (303) 987-5992 today.