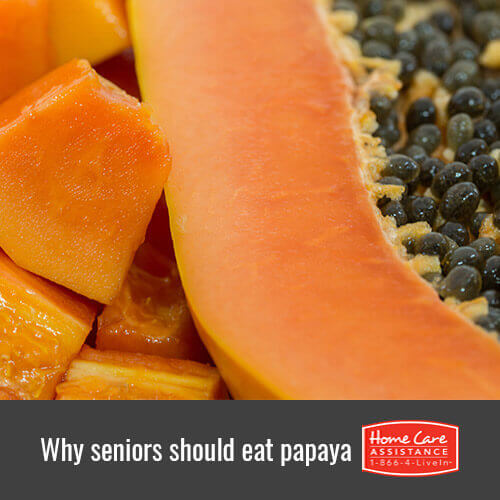 While papaya may not appear on your grocery list with the frequency of apples or bananas, there's reason to seek out this pulpy Central American fruit. Here are 5 key ways that papayas can boost senior health, presented by Jefferson County caregivers.
1. They're Heart Healthy
Papayas are an excellent source of vitamins A and C, both of which prevent cholesterol from oxidizing. The oxidation process is what allows plaque to build up on the artery walls, increasing risk for stroke, heart attack, and other cardiac events.
2. They Ward Off Age-Related Macular Degeneration
Papayas contain zeaxanthin, an antioxidant that protects the eyes from age related macular degeneration. This condition, which affects those older than age 65, can cause blurriness, distorted vision, and total vision loss.
3. They Boost Immunity
Older adults can be more susceptible to infection and illness. Because papayas contain 200 percent of the recommended daily allowance of vitamin C, they are a great way to make up for the natural age-related decline of the immune system.
4. They Lower Risk for Certain Cancers
According to a study conducted by the University of Florida, papaya leaf extract can slow the growth of tumors in the breast, pancreas, and other areas of the body. In addition, the fruit is loaded with antioxidants that protect against the development of free radicals (mutated cells that can lead to cancerous growth). The fiber in papaya protects against colon cancer by binding to cancer causing agents and blocking them from colon cells.
5. They Have Anti-Inflammatory Properties
If you or your loved one has a disease that is exacerbated by inflammation, such as arthritis or asthma, the nutrients found in papaya can help alleviate symptoms and flares. 
Looking for more information on senior health and nutrition? We have you covered. As a leading provider of home care Lakewood, we ensure seniors have the support to maintain optimal wellness while aging in place. Our care services are available as needed and we never ask clients to sign long-term contracts. Find out more about how in-home care can promote your loved one's health by calling (303) 987-5992 and scheduling a complimentary consultation today.