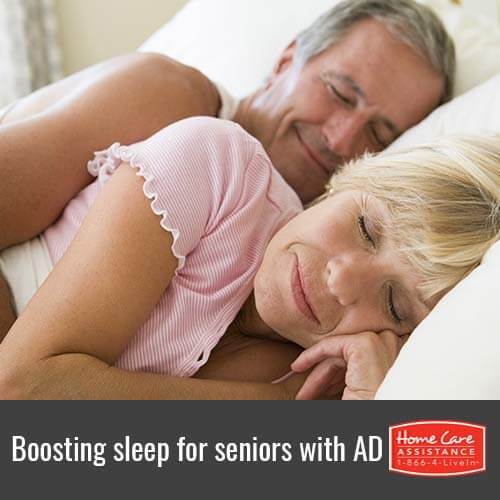 According to recent research read by Jefferson County elder care professionals, scientists are now attempting to use the light wave spectrum to improve the lives of Alzheimer's patients. Seniors with this disease often experience sleep difficulties, especially those affecting deep REM sleep patterns.
But researchers at the RPI Lighting Research Center are studying how the type of light a person experiences during the day can affect a night's sleep. In experiments involving Alzheimer's patients, a control group was exposed for 2 hours per day to longer wavelength red lighting, while the test group was exposed to shorter wavelength blue lighting.
Results showed that those exposed to blue light demonstrated significantly better sleep patterns and less disruption of their sleep/wake cycles. Researchers at the Harvard Medical School found similar results.
Though the research is still in the experimental phase, the results are both promising and scientifically logical. It is known that Alzheimer's disease can affect a patient's ability to process light, and the shorter wavelength of blue light can assist the brain in processing light.
It is also known that the amount and type of light received during the day can affect a person's circadian clock, or a person's ability to synchronize a 24-hour day and night cycle. For example, a person exposed to dim light throughout the day has a circadian clock of slightly over 24 hours. Finally, modern research is making the importance of REM sleep common knowledge in the medical community. It affects the ability of neurotransmitters to function and can affect cognitive thinking.
When these findings are combined, improving sleep through proper lighting can improve the day-to-day activities of an Alzheimer's patient. Best yet, the improvement can come from an inexpensive and painless source. A senior with AD can be exposed to blue light during the evening at home simply by changing the light bulbs in the living room or bedroom.
If you are the primary caregiver for a senior loved one with Alzheimer's and could use additional support meeting his or her needs, turn to Home Care Assistance. As a trusted provider of Alzheimer's and Jefferson County dementia care, we can ensure your loved one has help with everything from cooking and personal grooming to transportation and medication reminders. Please give us a call at (303) 987-5992 and speak with a friendly Care Manager to learn more.