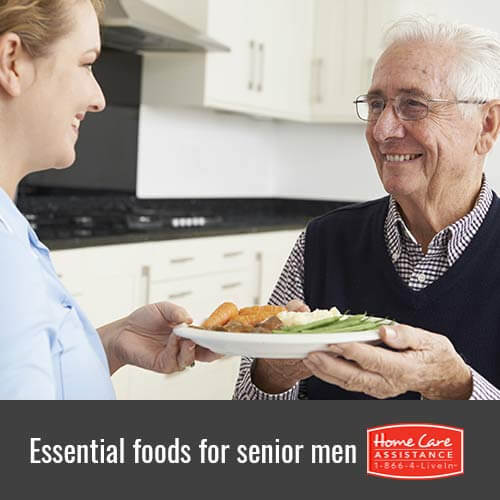 The ideal number of calories a person should eat every day declines with age, which means every calorie a senior consumes should be packed with important nutrients to keep the body running efficiently. Adding these superfoods, recommended by Jefferson County senior care professionals, to your loved one's diet will make it easier for him to meet his nutritional needs.
Greek Yogurt
Greek yogurt is an all-around superfood with less carbs, salt, and sugar than regular yogurt and more probiotics to support healthy digestion. Greek yogurt is also an excellent source of calcium with almost 190 mg per serving. Men between 51 and 70 should get 1,000 mg of calcium a day, then 1,200 mg a day over the age of 70. Greek yogurt is also an excellent source of vitamins B12 and B6. Vitamin B12 supports healthy nerve function, but many seniors are deficient because they can't absorb it as well as young people.
Asparagus
Prostate cancer is the most common cancer among elderly men, and asparagus has been found to guard against prostate cancer and other prostate problems. Prostate enlargement begins around age of 40 and eventually leads to difficulty urinating. Asparagus is also a great source of fiber for digestive health and vitamin A to support the immune system and eye health.
Broccoli
Broccoli is packed with antioxidants, fiber, and vitamins A, C, B9, and K to support the immune system, bones, and eyes. Broccoli has more potassium than almost any other food, which reduces blood pressure and reduces the risk of kidney stones. It's recommended that senior men get 4,700 mg of potassium a day, a goal most do not reach. Broccoli has 468 mg of potassium per serving.
Kale
Kale is a versatile superfood that can be added to smoothies, cooked in place of spinach, added to soup, or eaten raw in a salad. This flavorful leafy green is packed with omega-3 fatty acids, which may help guard against dementia and memory problems. It's also a great source of calcium to support the bones and lutein to support eye health.
Oatmeal
The main benefit of oatmeal is its high amount of soluble fiber, which lowers cholesterol. Men are at an increased risk of high cholesterol and heart disease by the age of 45, although a daily serving of oatmeal can go a long way toward reducing this risk. Eating just 5-10 more grams of soluble fiber a day can drop LDL cholesterol by up to 5 percent.
Interested in learning more about senior health and wellness? Reach out to Home Care Assistance at (303) 987-5992. We provide hourly, live-in, dementia, Alzheimer's, Parkinson's, and stroke care Jefferson County families trust. Our care services are backed by a 100% satisfaction guarantee, we never require long-term contracts, and care can be adjusted at any time without penalty. Call us today and schedule a free in-home consultation.