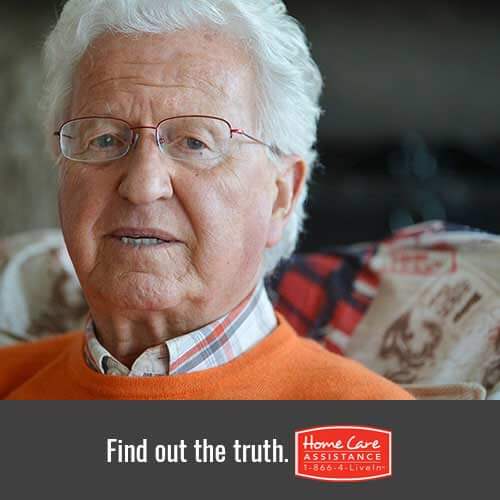 Lying is a normal symptom of dementia, and it happens for many reasons. Most of the time, lying is merely a symptom of the disease and not intentional deception. Lying, or untruths, may occur at any stage of dementia, but this symptom generally is more common among seniors with mid- to late-stage dementia and can worsen as the disease progresses. Home Care Lakewood's dementia care experts have put together the following information to help family members better understand why some seniors with dementia lie.
Confabulation
Seniors living with dementia are aware their memory is slipping away, and this leads to a great deal of confusion and turmoil. Many times, lying is just an unconscious defense mechanism called confabulation, which means your loved one is unconsciously replacing his or her lost memories with false ones. This happens because our brains constantly try to make sense of what is happening around us, and when memories become lost, the brain maintains sense of what's going on by filling in missing moments with alternatives.
Anxiety and Paranoia
Seniors with dementia often have diminished short-term memory capacity. This can lead to paranoia and anxiety when, for example, a senior can't find an item he or she is looking for. It's not uncommon for seniors with dementia to blame a family member or professional in-home caregiver for losing or stealing the "missing" item. Some seniors with dementia begin to suspect the people around them of stealing their belongings or money as their short-term memory diminishes and they cannot remember spending the money or moving the item to another room.
It's also possible for seniors with dementia to tell outright lies, such as saying they need to go to a meeting with the president or lying about their former employment, when the feel embarrassed, scared, or they become aware they are doing things that aren't quite right. Telling these untruths is often a way of preserving their dignity and trying to fit into the situation.
When your loved one is telling a lie or accusing a family member of wrongdoing, remember it's a symptom of the disease. If you need help managing your loved one's complex care needs as the dementia progresses, reach out to Home Care Assistance. We are the trusted provider of dementia care, Alzheimer's care, and Parkinson's care Jefferson County families count on. Our highly trained caregivers are available 24/7, thoroughly vetted, and use proprietary care methods to promote safety, health, and cognitive vitality. Learn more by calling (303) 987-5992 and speaking with an experienced Care Manager.