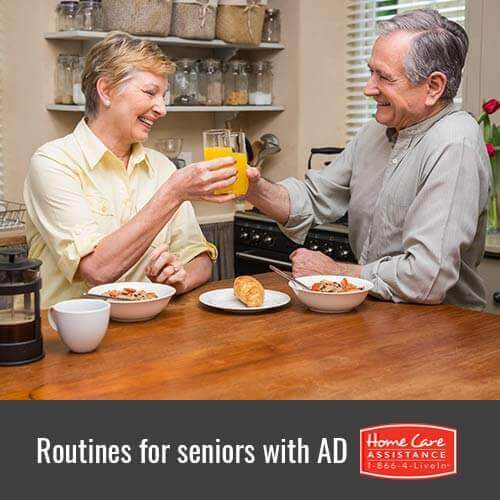 The progression of Alzheimer's disease causes changes in a senior's short-term memory that can make it difficult to keep up with daily tasks. For this reason, Alzheimer's caregivers in Jefferson County often use routines to help seniors understand what will happen throughout their day. In addition to providing the consistency seniors with Alzheimer's need to reduce anxiety, a set routine can also provide the following benefits.
Reduced Chances of Medication Mishaps
Seniors with Alzheimer's are at greater risk for potentially damaging health effects caused by medication mix-ups and forgotten doses. This is especially true for seniors who are responsible for taking their medication on their own and those with multiple caregivers. By having a set time of the day when each dose is taken, the risk of having a mishap is greatly reduced.
Continuity of Care
It can be confusing for seniors if each caregiver does things differently, and what may seem like a simple change, such as going to bed at a different time each night, can throw off a senior's sense of time. When a set routine is agreed upon and followed by each caregiver, seniors benefit from knowing that their needs will be met every day.
Improved Independence
As a senior with Alzheimer's becomes familiar with his or her routine, he or she is more likely to have days when they can manage their needs with greater independence. Being able to remember what happens next can provide seniors with the confidence they need to continue to follow their symptom management plan.
Better Overall Wellbeing
Throughout life, routines provide a sense of balance to a person's day, and this is even more important in the senior years. Having a set routine means a senior can wake up each day knowing when he or she will bathe, get dressed, have meals and enjoy favorite activities or hobbies. All of these factors play a role in their overall happiness and wellbeing, and simply knowing that each one has a plan can improve overall quality of life.
If your senior loved one has recently been diagnosed with Alzheimer's or you could use help managing his or her care needs, please reach out to Home Care Assistance. As a trusted provider of senior home care in Jefferson County, we provide the support seniors and their families need and deserve. Our caregivers employ our proprietary Cognitive Therapeutics Method to stave off cognitive decline and can help with grocery shopping, errands, mobility support, personal grooming, and light housekeeping. For more information, call (303) 987-5992 and request a complimentary in-home consultation.